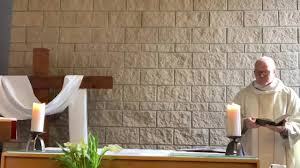 Some exciting news and a ton of information to share with everyone! As you know, the Province of NB has moved us all into Phase 3 of its Covid Recovery Plan, now allowing 'gatherings with physical distancing of 50 people or fewer'. This is exciting for us all as it means that Archbishop Vienneau has given us authorization to reopen the churches for Mass, beginning this coming weekend (May 30th/31st), as the church celebrates Pentecost!
That being said, the safety of every parishioner is our utmost priority.  Yes, we yearn to come together as a faith community, but first and foremost, we must be a safe faith community.  Here we go!
Depending on the size of the church, each Mass may have a maximum of 50 people in attendance. To reserve a place, you must call the parish office at 386-6178, Monday to Friday between the hours of 9 a.m. and noon. We will not take reservations outside of those hours and we can't use email or texting as we need to speak with you when you call. There are specific questions we must ask you and some information that we must give you. A phone call is required.
To start, we will celebrate weekend Mass at our four churches, as per the original schedule.

Holy Ghost, Saturday 4:00 p.m.
Holy Family, Saturday 7:00 p.m.
St. Jude's, Sunday 8:30 a.m.
Immaculate Heart of Mary, Sunday 10:30 a.m. (with live-stream)

Peoples Park Tower will have to wait a little bit longer.
We will do our best to ensure that each parishioner will get to attend Mass once, before anyone else attends twice.
No weekday Mass yet.
When coming to Mass, we need you to:
In the parking lot, stay safely 6 feet apart.
At the church door, stop and allow the volunteer to check you in.
Inside the door, stop and you will be given hand-sanitizer (your hands will be 'squirted' 😊).
Inside the church, follow the volunteer to your assigned seat.
During Mass, follow all arrows and markings on the floor, so we all stay safely 6 feet apart.
During Mass, enjoy the Music Ministry, small in numbers but mighty in song! Hum along, but for now, no singing.
After Mass, respect the safety of keeping the 6 feet between you and your fellow parishioners while leaving the building and when out in the parking lot.
Maybe this 'new normal' won't be what we want it to be,
but it will be what we need it to be.
Important!
What is a Dispensation from Mass?
Those who are sick (fever, cough, etc.), those over the age of 70 and those with medical or at-risk conditions are advised not to go to church. We know that this is difficult but during the time of this pandemic, the dispensation of Sunday Mass is given for those who cannot go, and for those advised not to go, to church. Rather, these faithful are invited to read the Word of God and to pray in their homes and to participate in the celebrations of the Mass via TV, radio and/or the Internet.
Note:  St. Elizabeth of the Trinity will continue to live-stream Mass while we are restricted to 50 people at each church.  For now, live-stream Mass will continue to be from Immaculate Heart of Mary, and it will be at 10:30 a.m. on Sunday morning.
Although not mandatory, to increase your comfort level, we encourage everyone to wear his or her own mask.
WE WANT YOU TO FEEL SAFE INSIDE YOUR PLACE OF WORSHIP
You will notice some changes to the Mass:
A volunteer will bring you to your pre-assigned seat(s)
There will be one Lector for all readings
There will be no Altar Servers
We will not be singing
We will wish each other the Peace of Christ by nodding, smiling, bowing and waving.
We will be silent when receiving Holy Eucharist
Please know that before each Mass, every pew, railing, door handle and all bathrooms will have been cleaned and sanitized by a crew of amazing volunteers!
Please help them by making sure that you take all of your belongings with you when you leave.