RCIA (Rite of Christian Initiation of Adults)
Please contact our Pastoral Associate, Mark Mahoney at 506-386-6178 or send an email to markmahoney.set@gmail.com for further information.
.. 
The RCIA is a process of faith formation for adults and children of school age. For Catholics, this program is for those who were never catechized and who never celebrated Confirmation or First Communion. RCIA is also for adults seeking to become Catholic; that is those who are Christians, baptized in another denomination, who need a deeper understanding of Catholic beliefs. RCIA helps a person become acquainted with the liturgical life of the church and the faith community before making a commitment to the Church.
.

Our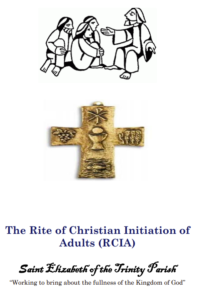 RCIA team has created a little pamphlet (click here to see it!) and it will hopefully answer many of your questions.  You can also call Mark at the parish office and he'd be happy to speak with you.
If you think that you would like to be on the team that facilitates this process, it is truly a wonderful opportunity to give fellowship and support to one making this journey of faith.  Please contact Mark if you feel called to this ministry!