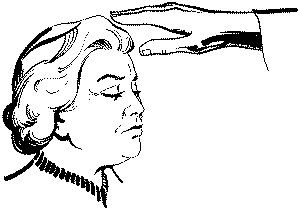 You will not get very far into any of the four gospels before you inevitably bump in a story of Jesus showing concern for the sick. When Jesus personally wasn't anointing and healing the sick, he was delegating his apostles to do so in God's name. In the course of time, the focus of the sacrament of the Anointing of the Sick shifted from healing to the forgiveness of sins. And the time for receiving the sacrament was delayed to the deathbed when forgiveness of sins would also be the final preparation for heaven. It became almost exclusively conferred only at the point of death and so was named "Extreme Unction". Some people still, to this day, refer to it as that or as the "last rites." (To these people, I'm still not sure if I'm the "hero" or the "Grim Reaper").
The Second Vatican Council (1962-1965) wanted to remedy this misconception and make this wonderful sacrament more widely available than to just those on the cusp of death. More than a mere name-change from "Extreme Unction" to "Sacrament of the Sick" was required. A deeper understanding of the sacrament was needed. Three basic understandings were recovered.
1) Communal. When we formerly called it "extreme unction" we thought of this sacrament as a private sacrament between a priest and an individual at death's door. However, paragraphs 1516 & 1517 of the Universal Catechism say that when the Sacrament of the Sick is celebrated, as much as possible, it should be celebrated in the context of Eucharist with the assembly present. It makes sense to me to have faith-filled people surrounding the sick with their prayers.
2) More than the body. Sometimes we think of sickness exclusively in terms of bodily illness. But we are wholistic beings made up of body, souls (depth), and spirits (height). We suffer from anxiety before surgery, from depression, from stress, from fatigue caused by caring from another, dementia, etc. Christ's healing power wants to reach all dimensions of us.
3) Faith. Sacraments, including the Sacrament of the Sick, are celebrations of faith, expressions of who we are before God. God alone knows what kind of healing the sick need most. The Sacrament of Anointing does not remove the mystery of human suffering. Instead, it draws us closer to the One whose suffering and death lead to healing, life, and resurrection.
Consider joining us at 7 p.m. on Wednesday, October 30th, at Holy Family Church for a communal celebration of the Sacrament of the Sick.
Fr. Phil Mulligan