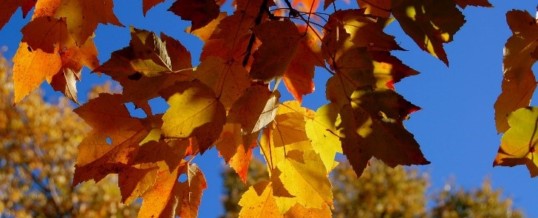 Many people tell me they have mixed feelings about this time of year because even though they happily anticipate the artistic beauty of autumn, they know the cooler, shorter days foretell the arrival of winter and all that entails in New Brunswick…what Sr. Joyce Rupp calls an "unforgettable sacrament of absence."  I have been avoiding even the thought of it for a couple of weeks now, but Summer 2019 is nearly over, leaving memories of long days spent with friends and family in backyards, beaches, parks and campgrounds. Bike rides, brilliant sunsets, campfires, stargazing and fireflies.  The arrival of autumn brings with it the temporary surrender of these good things and a reminder of the times when dying is necessary for growth. 
Regardless of my age, I continue to associate this time of year with the return to school.  As a young teen, each September I took great pleasure in shopping for school supplies; happiness was untouched notebooks, loose-leaf wrapped in cellophane, unsharpened pencils, and rubbery-smelling erasers, but most importantly…possibilities and new experiences.  With the previous school year all but forgotten, September arrived with an opportunity to start over with a clean slate.  Granted, the first week or two back took a bit of adjusting, but soon enough I was settled comfortably into the rhythm of the new season.
As a young adult studying at St. Francis Xavier University, I kept on my dorm room wall a dry-erase four-month calendar listing important dates for the academic term.  Each May I looked forward to "clearing the slate". Joyfully rubbing away the deadlines, due-dates, and exam schedules somehow also allowed me to clear my head of the drama of every self-induced crisis I had entertained in the previous four months.  When I returned to classes in the fall, I did so with an unmarked calendar and an opportunity to fill up the following four months with newness and renewal. Literally anything was possible.
This past week some of us returned to school after a blissful two or three-month hiatus, many left home for the first time to study in another city, while others returned to a "regular" work schedule.  We will encounter new people, experiences, and challenges, and for me there is not only an undeniable sense of redemption present in our moving forward into a "new" year, but a graceful offering of personal growth and like nature around us, transformation. 
I totally understand the mixed emotions around summer's end, because our often-severe winter brings with it a degree of darkness and uncertainty. However, I have been told by a reputable source that the buds on the trees set in the fall, so even before winter sets in Creation extends to us the promise of renewal in the spring.  Just watch and wait.
I am listening to the death of old ways.
I am listening to the life force turning inward.
I am listening to the renewal of the earth.
I am listening.
~Joyce Rupp

Trevor Droesbeck
Office of Youth Faith Development
Archdiocese of Moncton