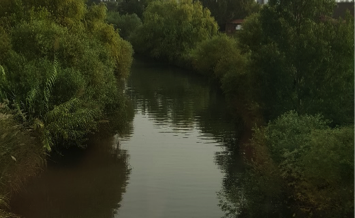 If you have had the privilege of visiting Israel, you may have seen the Jordan River and if you did, you may have noticed that the Jordan River is… unassuming, making it fitting that it would be the site where Jesus approached his cousin John demanding to be baptized. The river resembles any number of small rivers and you might pass by without noticing it unless someone pointed it out to you. But this is the river in which Jesus was baptized, and where his status as a beloved child of God was affirmed. Note that upon his baptism, the voice of God says, "This is my Son, the Beloved, with whom I am well pleased," and not "This is my Son, the Beloved, at least until he screws up and is Beloved no more." Jesus was beloved, and we are beloved. In a world (and sometimes in our Church herself) that is increasingly designed to make us feel unworthy, this is such…good…news.
The late Rachel Held Evans was an Episcopalian (Anglican) author and blogger who said, "In Baptism, we are told, "You are a beloved child of God", and we're told to renounce anything that says otherwise." So through our baptism we are named God's beloved, and are to renounce anything or anyone telling us we are not good enough, less-than, a screw-up, unevangelized, promiscuous, an alcoholic, addict, convict, phony, hypocrite, heretic, sinner, etc., just think of some of the names you have been called perhaps behind your back, or maybe to your face. I have been called many names, and I can assure you they have not all begun with "Beloved child of God." Indeed, there is no shortage of ways in which people can be made to feel they are not good enough… and do not think I am soapboxing here, because at times I have been guilty of referring to others in a hateful manner, as if to suggest this is all that defines them.
Remember who you are, echoes a voice in my head. This actually happens to me, usually when I use words or exhibit behaviour grounded in fear and insecurity. As a Christian, first and foremost I am beloved by God who is even pleased with me, as difficult as this has been for me to believe at times. Maybe it has been difficult because as Roman Catholics most of us are baptized as infants and cannot remember what was said. For some, perhaps it is because at baptism we were designated beloved by God only to have this followed by a lifetime of dire warnings and sin-shaming, with salvation always just out of reach for those not quite worthy.
Regardless of the language we use or how common it may be, I do not believe any human being is ever simply an addict, or an alcoholic, or a phony, or sinner, or whatever…because to believe so would be to deny what we profess to be in the eyes of God.
Pope Francis reminds young people (as well as everyone) in Christus vivit, "God loves you. Never doubt this, whatever may happen to you in life. At every moment, you are infinitely loved." (112) Let us reside here. God will attend to the rest.