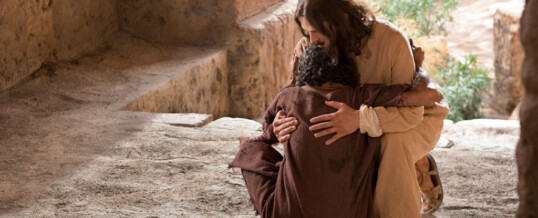 "The Lord is our God, the Lord alone.
You shall love the Lord your God with all your heart,
and with all your soul, and with all your might.
Keep these words that I am commanding you today in your heart." (Deut 6:4-6)
Did you know that these words and their various translations, are deemed so important that they are an invocation to prayer for three major religions that claim Abraham as their father of faith: Judaism, Christianity and Islam.
In Judaism, this passage is not only spoken as an invocation, but is written on the parchment inside the tefillin/phylacteries (small leather prayer boxes) worn by some devout Jews above the forehead and on the upper arm during solemn prayer. It is a reminder that God alone is the source of life and our well-being, and that all prayer and action should begin from this perspective.
Jesus, also, is well aware of the importance of this Scripture passage and cites it as "the first commandment" in today's gospel. As Catholics, we begin prayers with the sign of the cross over our forehead, heart and shoulders while praying, "In the name of the Father, Son and Holy Spirit," invoking that all we are about to say and do be done with God as its source.
In Islam, each of the five daily calls to prayer begin with an acknowledgement that God alone is deemed "Great," and God alone is the source of life, truth and wisdom.
What I find so powerful in this Scripture prayer, is that we are not asked to obey God with our whole heart, soul and might, but to love God with our whole heart, soul and might. God is not demanding our absolute obedience but is offering to be in control of our life. Why? Because God wants us to live joyful and fulfilling lives. "Hear therefore, O Israel and observe them diligently, so that it may go well with you…in a land flowing with milk and honey."
After all the pervasive anxiety we have been experiencing over the last several months, today's Scripture passages offer comfort. Much as we strive to know and control our future, these words tell us that we never had, nor never will, control the future…and that's OK!…because God has the "steering wheel" well in hand. With love of God fueling our hearts, mind and strength, we are simply called to do what we can do, today.
Giving over the control and fears for our future into God's loving and wise hands is the beginning of finding that peace we so desperately seek. Fear and anxiety are exhausting and debilitating, and often leads us to become more critical and judgemental of others. Acknowledging and accepting that God is in control of the future gives us the energy and freedom to not only live more at peace but frees up our energy to better "love our neighbour," as well. Trusting that God is at work within every crisis allows our tiny mustard-sized seeds of hope to be watered and nurtured by a God who ultimately desires the joy and well-being of us and our neighbours.
"I love you, O Lord, my strength.
The Lord lives! Blessed be my rock,
and exalted be the God of my salvation." (Ps 18:1,46)