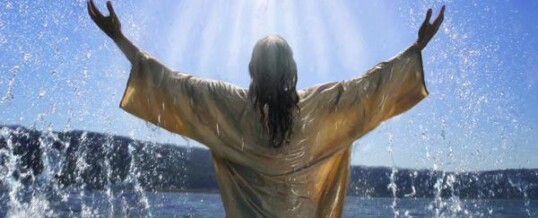 "This is my beloved son, with whom I am well pleased."
There are few occasions that this line has been repeated in the gospels. Among the many lessons hidden in those few words, is the one that teaches us what pleases God. Jesus' baptism happened before his public ministry. Up to this point in his earthly life, while he was being baptized, Jesus had done nothing extraordinary yet: no miracles, no great speeches, no massive conversions. He had spent thirty years living in Nazareth, helping St Joseph in the carpentry shop and doing chores for Mother Mary. And yet, the Father's favour rests on him, the Father is well pleased with him. Why?
Because Jesus has been doing what God asked him to do, and doing it with love. We do not need to try and impress God with our earth-trembling accomplishments. All he desires from us is a heart centered on him, seeking to do his will. What God wants from us is our friendship; everything else is secondary. And that friendship happens as we know, love, and follow Jesus Christ by doing and accepting all that he asks of us. Doing God's will: nothing more, nothing less, nothing else – when we make that our motto, we too fulfill our vocation of being "beloved children" of the Father, with whom he is well pleased."
And when we fulfill our vocation, we find the peace, wisdom, and the lasting excitement of God's blessings that make life worth living in the first place. Sometimes we think that we cannot really be pleasing to God because we are so full of sins, sinful tendencies, and selfish attitudes. Every single time I see myself in the mirror wearing this alb, with all the trashes that I have in my life, I see myself so unworthy. When we see this part of ourselves, we get discouraged and think we will never be good enough for God. But that is not God's perspective. From God's perspective, the soul that is more in need of his grace is the one that attracts his love the most.
Like a good mother, God pays special attention to the child who is sick and weak. Our misery is what attracts God's mercy. This was the whole point of our Lord's revelations of the Divine Mercy, which he gave to St Faustina Kowalska, in the first decades of the twentieth century. On May 1, 1938, Jesus said to Faustina, which she wrote in her diary, "If souls would put themselves completely in My care, I Myself would undertake the task of sanctifying them, and I would lavish even greater graces on them." Our misery and need doesn't turn God away from us, Our misery and need draw him towards us; he is delighted when we let him help us. If we just open the door of our hearts to his friendship, even a little crack, his transforming grace comes flowing in.
It is not a coincidence that Jesus was baptised in the flowing river of Jordan. Centuries before Jesus, Joshua in the Old Testament, led the Israelites' entry to the promised land by passing through the flowing waters of Jordan river. As the Israelites pass through the waters of Jordan river, they were given a new life. A renewal of their identity as God's beloved nation. As Jesus rose from the waters Jordan, he sanctified the waters so that anyone who follows him in baptism receives a new life, a new identity as child of God. Three years later after Jesus' baptism, another water will flow. But this time, it is the water that flows from the side of Jesus as he hangs dead on the cross.
Through Christ's death on the Cross, as the precious Blood and Water flowed out from his side, and through his glorious Resurrection, He gives us a new exodus. He brought us out of the bondage from our sins and the slavery of our selfishness.
He leads us to the life pleasing to the Father so as to be worthy of the title: "My beloved in whom I am well pleased." Let us remind ourselves that when we were baptised, we died from sin and Christ gave us a new life and a new identity. We no longer belong to the darkness of the world, but of the light of eternity.
We will fall to sins sometimes; we will fail sometimes. We may experience disappointments and trials along the way. But our disappointments should not define us. Sickness is not our identity. Failure is not our identity. Our identity is that we are children of God. We belong to God who is merciful and loving. Our life story does not end with failure because our life story is not horror, not tragedy. Our story is a love story, a love story with God who loves us first. His love strengthens our love.
In a few minutes, through the sacrifice of this holy Mass, Christ will renew his total commitment to us, let us rest in his friendship, and promise that this week we will try to come closer to him. Maybe we can challenge ourselves to be the 8th Sacrament, as Pope St. John XXIII would put it. The 8th Sacrament, yes I know there are only 7 Sacraments. But we can be the 8th Sacrament. Sacrament, in broadest sense, is the sign of something sacred and hidden. You and I can be signs of God's graces everywhere we go. And again, we do not have to do earth-trembling accomplishments. As St. Teresa of Calcutta would put it, "There are no great things, only small things with great love."
Nothing would please him more.
Juan Carlos Jacinto