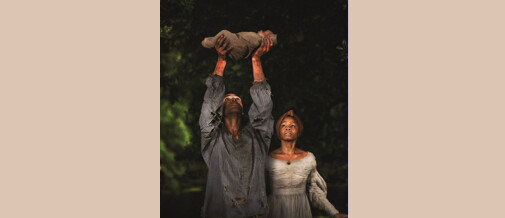 One of the very first miniseries to appear on television was Roots back in 1977. Do you remember that? It was based on Alex Hailey's book by the same name and traced his ancestry from Africa to America by way of the horrible slave trade. (Just as an aside, it was that very same week, back in 1977, that my father finally ditched our black and white T.V. for a colored T.V. Our exuberance was short lived, though, as the very first thing we watched on our newly-acquired colored T.V. was Roots—a movie about black and white people! Yeah, so much for a colored T.V.).
During the earlier days of COVID-19, I decided, over a number of evenings, to watch Roots again. As the story evolved from the first slave in Alex Hailey's family, Kunta Kinte, to each successive generation of slaves, a ritual from the old country in Africa was passed on. Whenever a newborn child came into the world, one of the parents, usually the father, would take the child at night to a clearing in the forest. And in the silence, lifting the child up as high as he could and turning the child's gaze toward the heavens, the father would say to the child, "Behold the only thing greater than yourself." It was as if the father was aligning the child with the ways of the universe, a universe that had ultimate meaning and beauty even though the father was not naïve to pain and even cruelty.
There is a lot of truth packed into that statement: Behold the only thing greater than you. The assumption is that we are the bearers, within our own bodies—the very bodies we often have trouble loving—of greatness. Because of misguided humility or low self-esteem, it is easy to lose sight of the greatness within. Our greatness is nothing that can be earned but only received. What we behold as the only thing greater than ourselves is the Divine itself, God.
Although I have no way of proving it, I think when the Wisemen looked for the first time into the face of this Child Jesus, a voice in each of their minds said, "Behold the only thing greater than yourself." The star that led them to Bethlehem had served its purpose and vanished, because it was no longer needed. The real star, the star that would never recess back into the heavens, was Jesus. When you are in possession of what is ultimate and permanent, you can let go of what is penultimate and temporary.
We are told that they offered gifts of gold, frankincense, and myrrh, gifts fitting for a king. Afterall, Jesus was a king. I have a feeling the Wisemen did not offer gold, frankincense, and myrrh; they brought these things but did not offer them. I think they just left them at the back of the barn, far from the manger, with no fanfare whatsoever. Like the star of Bethlehem, the gifts of gold, frankincense and myrrh were simply to get them inside the barn. Once inside, the Wisemen realized their gifts were of little significance compared to the gift they were about to receive. Their gifts, like the star of Bethlehem, faded into the night and we never hear what became of the gold, frankincense and myrrh after that. It is simply not important.
This baby Jesus will grow up an tell his followers a parable about a person who sells everything they have in order to raise enough money to buy a field that holds a treasure. The Wisemen have done precisely that. They have left everything behind and acquired the greatest of all treasures. They do not leave with gold in their pockets anymore but with faith in their hearts. It is a faith that reveals to them that this child is God's gift to the world, and all we have to do is receive it.
Mary Ann Evans was a very accomplished English Victorian writer who wrote under the pen name George Elliot, a man's name, in order to get her works published. She writes the classic tale of Silas Marner. Silas Marner has his gold, and he loved his gold, and he was robbed of his gold. And everyday he waited and schemed on how he would get back the gold that was taken from him. But one day what arrived at his doorstep was a golden-haired, little girl. He did not want a golden-haired, little girl; he wanted real gold. But he took her in. After awhile he realized it was what he wanted all along. He didn't want the coldness of the gold. He wanted a relationship where there was love, but he didn't know it until the girl came. And when she came, he knew it was what he wanted all along.
When the ultimate appears, no matter how it appears, we can let go of the penultimate. When the real appears, you are no longer satisfied with the artificial. When you realize you no longer need the star nor the gold, frankincense or myrrh, it will be because, in that moment, you will be looking into the treasure you always wanted even though, for most of your life, you didn't know you wanted it. But when it appears, you will feel this urge to go sell everything and buy the field where your treasure lies. And like the Wisemen, you will go back to your country by another road…changed forever.
Fr. Phil Mulligan