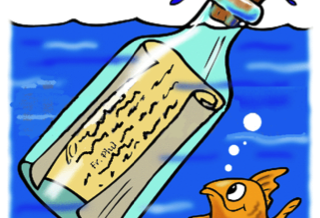 Ahoy, dear parishioners, we are living in a very different and almost surreal moment of history. So much of our personal and collective routines, both as Church and within the greater society, have been upended by something that cannot be seen with the naked eye. How could something so small cause such catastrophic effects throughout the entire world? I do not know. But what I am reminded of, as we all hunker down, is how fragile and vulnerable and interconnected we all are. This is not a new way of describing ourselves, but the pandemic has brought this awareness to the surface like never before.
As you already know, Bishop Vienneau, and the bishops of New Brunswick, have suspended weekend and weekday Mass until further notice. They have no more of a crystal ball than the health authorities do when it comes to predicting when we can once again gather for Eucharist and get on with life as usual. For now, all gatherings, no matter how small, have been postponed until further notice. This includes committee meetings and any group gatherings in our church buildings and halls. However, Immaculate Heart of Mary Church will remain open as usual for individuals to come in and pray during these trying times. Continually, we will be re-evaluating the situation based on good judgment, common sense, and what the health authorities deem safe. In other words, we will err on the side of safety and caution. Most, if not all, seniors' complexes, nursing homes, and hospitals are closed except for immediate family members. This makes pastoral care to the sick and shut-ins difficult, if not impossible. If you are one of these people, who appreciated the visit of a priest or one of our pastoral care team members, I feel for you. You are not forgotten. You are still important to us. You are held in prayer. Ah, prayer! It is the one thing we can all do under any circumstance that still costs nothing. Prayer can be small like a virus, but it's always more subversive and contagious.
Faith is rarely created in times of crisis, but it's always tested there. Lean on your faith; that is why it's there. Scripture always has a way of coming alive in my own life whenever I am facing a personal struggle or challenge. And although the gospel readings we have during Lent are powerful, this particular Easter gospel reading is speaking to me now. It is the Risen Lord addressing Peter on the shore of Galilee. I have included my own additions. "Very truly, I tell you, when you were younger (before coronavirus) you used to fasten your own belt and to go wherever you wished (work, stores, church, restaurants, social events). But when you grow old, (since the epidemic hit) you will stretch out your hands, and someone else will fasten a belt around you and take you where you do not wish to go." (Jn. 21:18).
COVID-19 may seem to be taking all of us to places where we never wished to go. The idea of being led rather than leading, the idea of having your life in someone else's hands, the idea of losing control, are all challenges to our so-called "independence." Can we trust in these times that our lives are, not only in the hands of a virus, but more importantly in the hands of God? I do not believe God is sending us a virus to teach us a lesson nor to punish us. But I do believe God is speaking to us through these trying times. Without belittling the human loss and suffering of many, I think this could be an opportunity. Yes, an opportunity to slow down, to listen to God, to break with routine, to re-evaluate what is really important, and to respond with the faith we always had. We may have to practice social distancing, but there is not social distancing on God's side. God is as close to us as ever. I miss you all and can't wait until we can all gather again around the Lord's Table.
Fr. Phil