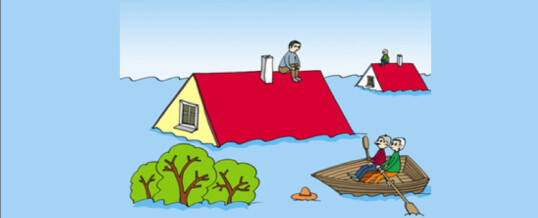 A fellow was stuck on his rooftop in a flood. He was praying to God for help. Soon a man in a rowboat came by and the fellow shouted to the man on the roof, "Jump in, I can save you." The stranded fellow shouted back, "No, it's OK, I'm praying to God and he is going to save me." So, the rowboat went on. Then a motorboat came by. The fellow in the motorboat shouted, "Jump in, I can save you." To this the stranded man said, "No thanks, I'm praying to God and he is going to save me. I have faith." So, the motorboat went on. Then a helicopter came by and the pilot shouted down, "Grab this rope and I will lift you to safety." To this the stranded man again replied, "No thanks, I'm praying to God and he is going to save me. I have faith." So, the helicopter reluctantly flew away. Soon the water rose above the rooftop and the man drowned. He went to Heaven. He finally got his chance to discuss this whole situation with God, at which point he exclaimed, "I had faith in you but you didn't save me, you let me drown. I don't understand why!" To this God replied, "I sent you a rowboat and a motorboat and a helicopter, what more did you expect?"
Many of you anticipated the punchline to this story, because many of you heard it before. Likewise, I've pondered this story numerous times during our battle with the COVID-19 virus, especially throughout the on-going vaccination stage. If you are reading this it means you are not counted among the 235 New Brunswickers, the 33,722 Canadians, or the 5.6 million worldwide who have died because of the virus. What grief for their families and friends! We are so fortunate to live in a country where we can access a vaccine for free. All we need to do is show up, roll up our sleeves, and exercise faith…faith the size of a mustard seed. We are so fortunate! Much of the world languishes with neither vaccines nor the healthcare professionals to administer it. So, the pandemic hunts them down at will. What they would give to be in our shoes!
Yet, we still have people who refuse to be vaccinated because they refuse to listen to doctors, epidemiologists, and the huge body of research all pointing to the fact that vaccines save lives. There are many reasons why this group of people refuse vaccinations, including religious reasons. They believe that somehow trusting in medicine is tantamount to not trusting in God. They have convinced themselves, in their distorted image of God, that God could not possibly work through the minds, hands, and hearts of doctors, nurses, and health professionals. They refuse to believe that God could possibly come in a rowboat, a motorboat or a helicopter…but only on a cloud from on high. Their image of God is a god who remains so far above it all. To me, it's ultimately a denial of the incarnation itself. It's very poor theology and, worse than that, it is theology with deadly effects. Good theology always starts with incarnation—the divine living fully our humanity. The genius of God is that God's greatest and most intimate manifestation came—and still comes—in human form. God is in the one born in a barn; God is in the one serving coffee at Tim Horton's; God is in the one rowing the boat; God is in the exhausted nurse; God is in the helicopter pilot; God is in the research scientist. Incarnation is not limited to a cold barn in Bethlehem 2000 years ago; incarnation is still happening.
Jesus compared the Kingdom of God to a man hosting a great banquet (Lk. 14:15-24). The invitation goes out but, one by one, those invited turn down the request with a variety of excuses. (Like vaccines themselves, the banquet is free). In response, the master tells his servants to go into the streets and alleys and invite the poor, the crippled, the blind and the lame. In fact, they are ordered to draw all into the banquet until the banquet hall is filled. Not one of those who initially turned down the invitation shall have a taste of the master's banquet.
Perhaps the vaccines that people are refusing in our country should be given to those in foreign countries who are literally "dying" for the chance to be vaccinated.  Let's give it to anyone and everyone open to the Master's offer.  Those refusing vaccinations (for non-medical reasons), should heed the Jesus' words to Satan, "Do not put the Lord your God to the test" (Lk. 4:12).                                                                                    
Fr. Phil Mulligan