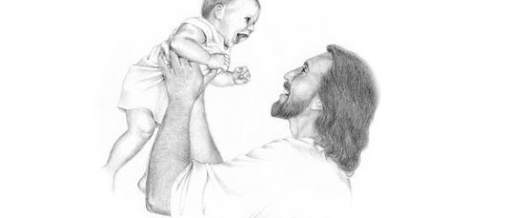 "Whoever welcomes one such child in my name welcomes me, and whoever welcomes me welcomes not me but the one who sent me." Mark 9: 37
Anyone who has ever come to church with young children in tow knows what a harrowing experience it can be for the parents. Depending on their age, there can be all kinds of encouraging words spoken by the parents to the child(ren) on the journey to church to impress upon them the importance of "being good". Everything from lovely images of sitting and listening to stories about how much we are loved by Jesus and that we want to behave to show Jesus how much we love him; to out and out threats of solitary confinement when we get home and the withholding of food. I don't think one approach is any more effective than another as the one predictable thing about kids is that they are unpredictable.
So, while I think we can agree that kid's behaviour can be unpredictable, I think we can also agree that our behaviour is anything but. How many times have we sat in church listening to a little one acting up and wondered why the parents are not taking that child out? We sometimes feel that an unwelcoming glance in their direction might help them "come to their senses". Now, while it is true that there are family rooms in our churches where parents can take children to help them settle, these rooms should not be the initial destination for these young families as soon as they arrive at mass out of fear that they may disturb someone. Also, many times during my years at St. Augustine's and at Immaculate Heart of Mary I would see people come in for mass, put their hands in the baptismal font, feel that the water was warm and then turn around and leave for another church because the warm water was an indicator that there was going to be a baptism. Then, we sit back, befuddled as to why there aren't any young people in church.
Several years ago, I was told that we need to welcome these young children in our midst, because they are the church of the future. While this may be true, I think we sometimes fail to remember that they are the church of the present as well. They are here now. I know from personal experience when our son was young that one kind word is all that is needed to be made to feel welcome. One Sunday morning, when our son was having a particularly rough day, after mass a little old lady came to my wife and I and asked, "Do you know why baby's eyes are so wide?" We answered, "No, why?" She said, "Because the infinity they left behind is still in sight." In that moment we knew that church was where we belonged, and that the odd tantrum was not enough reason to stay away. She reminded us that this wailing little bundle of joy was God's gift, not just to us as parents, but to the entire faith community. I think that's why the community is such a point of emphasis in baptism preparation.
It only makes sense that Jesus said if we welcome a child, we welcome God. After all, are we not all made in the image and likeness of God? I have said it many times before and will say it again. It's really hard to hold an infant in your arms and not believe in God. How this little one is so fearfully made is far beyond our human capabilities.
So, let's make a pact.  The next time we are bothered by a noisy child in church, let's remember that the parents want them to quiet down just as much as we do, and probably more.  If we are going to make them the center of our attention, let it be because we are welcoming them and telling them how glad we are that they are here.  It is truly the Christian thing to do and in our own best interest as well, because the old saying is true: "If you aren't hearing any crying, then your church is dying".
Mark Mahoney