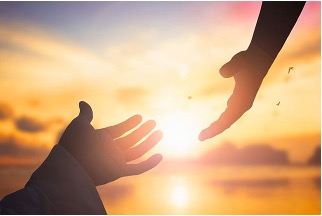 "Love is patient; love is kind; love is not envious or boastful or arrogant or rude. It does not insist on its own way; it is not irritable or resentful…it hopes all things, endures all things. Love never ends."
Today's gospel from Luke follows Jesus as he begins his public ministry. His reputation as a teacher of great insight is spreading and he is "praised by everyone." At first, when Jesus returns to Nazareth and teaches in the synagogue in which he grew up, "all spoke well of him and were amazed at [his] gracious words." Soon after, however, these same people are so angry at his words that they attempt to throw him off a cliff. What did Jesus say to change their opinion of him so quickly and so drastically?
The Hebrew people had experienced a long history of persecution and hardship. They endured their struggles, in part, because they believed they had a special relationship with God; they were "God's chosen people." For many, this meant that they alone had been given an insight into God's mind and they alone had God's favour. They believed the promised Messiah was coming for their exclusive salvation. No wonder they were shocked and angry when Jesus, merely a local carpenter's son, alluded to himself as that promised Messiah and then tells them that they would not be, and never had been, the only ones entrusted with God's truth or favour. How dare he, of all people, make such blasphemous claims in their place of worship?
I think similar scenarios have happened for many generations in our homes, communities, and churches, usually at times when we are forced to revaluate our sense of truth and to discern what the mind and will of God might be in those situations.
How many of us as parents, have been absolutely certain of the truth of our viewpoints, only to have them stretched and expanded (sometimes to a point of painful discomfort), by our growing children who present us with a different perspective of humanity and the world in which we live? Our initial reaction may often be visceral as we wonder, "How can a child, that I've raised be so wrong in their viewpoint??
How many times over the past few difficult years, have we found ourselves filled with anger and exasperation when confronted with opinions other than our own concerning health care and political policies? We may even have voiced our anger to other like-minded people saying, "What irresponsible and gullible idiots!!"
How often have we seen indignation as a response to people within our own church, who propose that church leadership should also include others who are not just male and single, or propose that our criteria as to who can share at our Eucharistic table should be expanded? We may hear comments like: "It's against tradition! It's heresy!"
Whatever side we may lean within these differences, we may feel certain in thinking we know the truth.  We are confident that we know God's mind and "it happens to be the same as ours!"  But if today's readings tell me anything, it is that "God's mind" is filled with more love, tolerance, and forgiveness than any of us can ever envision.   To even begin to know the mind of God, we many need to begin with viewing our fellow humanity through the lens of the love described by St. Paul in the second reading.   It isn't a love that is warm and fuzzy, or based on being like-minded.  It is a love that is sometimes difficult; stretching us to the point of discomfort.  Many of us have only heard St. Paul's reading at weddings, but it is God's challenge on how to see all of our relationships.   Our attempts to live in this love must "never end."
Mary Joshi