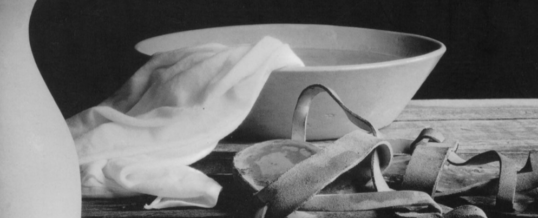 Today we begin the holiest week in the Church's calendar, aptly entitled Holy Week. Despite being seen by many Christians as such, it is not Christmas but Easter, which is the highpoint of the Church's liturgical year. In a few days we will celebrate Triduum – Three Days that commemorate the Paschal Mystery of Jesus Christ and move us from Lent to this great season of Easter. Triduum is a three-part continuous liturgy – Holy Thursday, Good Friday and Easter Vigil – each of which highlight a different aspect of the Paschal Mystery. The first part of this liturgy, Holy Thursday, focuses on the Last Supper, celebrating "much of what Catholics hold sacred."
During that Last Supper, a couple of important actions took place. In sharing this meal with his apostles and asking them to do this in "remembrance of me," Jesus left us the Institution of the Eucharist; the action of washing feet, instituted the Sacrament of Holy Orders. John's account of the Last Supper, heard on Holy Thursday, is the only one which speaks of Jesus washing the feet of his apostles. Interesting that we should hear John's version on Holy Thursday. One would think, as the day commemorates the Institution of the Eucharist, we would hear an account from either of the other three Gospels, each of which includes some version of the narrative from Paul's letter to the Corinthians, proclaimed during the second reading: "This is my Body … do this in remembrance of me … my Blood … as often as you drink it, in remembrance of me." Clearly, we are meant to pay attention to the foot washing.
What is the significance of foot washing? During Jesus' time, it was a sign of hospitality, extended to guests by the servants of the house upon entry. These were dusty roads people travelled, and feet, generally covered only by sandals, got dirty. I walk a lot – and after a day on my feet, especially during warm weather, my feet get dirty too. It is refreshing to wash them when I arrive home and is often the first thing I do. So, I get it – the need for foot washing.
Yet here, a task generally given to servants, is one that Jesus takes on himself. It is unusual enough that Peter feels the need to initially reject the action – "you will never wash my feet." In other words, you are my teacher, my master, the Christ. Leave the foot washing for others.
I am the eldest of 7 children. From a young age, I was reminded repeatedly that setting the example fell to me. This Gospel ends with Jesus saying, "So, if I, your Lord and Teacher, have washed your feet, you also ought to wash one another's feet. For I have set you an example, that you also should do as I have done to you." It's my mother's voice ringing in my ears. If you behalf badly, so will they; if you challenge and defy the rules, so will they; if you love them, they will love one another; if you reach out to them, you will all stay connected.
The task of remembering does not only involve eating Bread and drinking Wine. The task of remembering means paying attention to what I have lived, how I have included, how I have healed, how I have forgiven, how I have shown mercy, how I have loved. The task of remembering involves service, and this humbling gesture of washing feet is the best example I can give of what this service means.
Although, because of COVID, we cannot celebrate this profoundly moving ritual this year, the fact that it is service above all to which we are called as Christians, does not change.  Today we must ask: how can I best model foot washing?
Ellen Bennett
Office of Faith Development, Archdiocese of Moncton