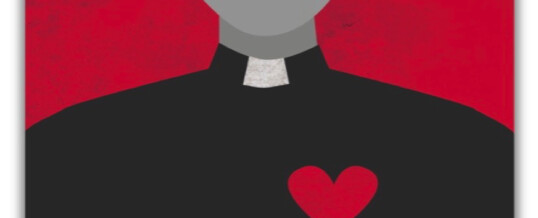 For this week's reflection, I am going to digress a little from reflecting on the reading/gospel theme, though there is mention of 'priests', as has been a current theme these past few weeks, and I would like to reflect on what it means to be a PRIEST.
Priests are there for Baptism, First Penance, First Communion, Confirmation; for some, commitment in marriage; when the elderly or infirmed are anointed with the oil of the sick, presiding at funeral rites and consoling the bereaved. In between, a priest offers Holy Mass, catechizes the faithful in faith and morals, advises the young, comforts the suffering, advises the confused, encourages the struggling, visits the ailing, heartens the immigrant, promotes justice and peace, and intercedes for all in prayer. All a priest does, is done in conformity with Jesus Christ, who with a brother's love, calls each to form a heart after His own.
A priest is expected to love others more than he loves himself, for he has been chosen to represent Christ's love in a world that has become skeptical of his worth and all too often heedless of his admonitions. There can be great discouragement and frustration especially, when priests are not as trusted as they used to be. Coping with the early days of the pandemic must have been particularly difficult for priests, who usually live 'alone' in a rectory making life even lonelier than usual. The pandemic has prevented priests from doing all they could for their people but, as true representatives of Christ, they are weathering the storm.
A priest has a BIG HEART:
a Father's Heart – a spiritual father who listens to his children's problems and advises and helps them overcome the difficult moments of life.
a Brother's Heart – a priest is a brother to all. Like a brother, everyone is important to him, no matter who they are or what they do, they can be assured that, in the priest, they have a brother they can trust.
a Friend's Heart – a priest is one of the best friends one could have. We know that we can rely on him no matter what. He will always be there when we need him and will care because he wants the best for all of us.
Ultimately, a priest's heart is full of generosity and kindness. He is willing to give away his time his energy, his possessions, even his heart, for God and His people.
Now to get to the HEART of the matter. I want to reflect on one priest in particular, as he celebrates his 56th birthday on November 14th – our own Father Phil Mulligan. All the previous words describing priests can be applied to Father Phil. Phil was born in Aylmer Quebec, just across the border from Ottawa Ontario. I grew up in Renfrew Ontario, about an hour's drive from Ottawa and very close to the Quebec border. It means a lot to me that he knows where I'm from. He is from a Catholic family of 8 (6 boys and 2 girls). I wonder if they all have that red tinge to their hair, too? His father is still alive, and Phil was finally able to enjoy a 'wonderful visit' this past August after a long time of separation due to Covid restrictions. Phil was ordained on August 23rd, 1997, and has been the best example of a priest, that you could ever want.
Father Phil keeps it all simple and real for the people. He takes the Scriptures and brings them to life with stories from real life experiences. He has built a true faith community – his constant reminder of community, in all we do. He would never ask more of anyone than he asks from himself. Pope Francis has stated that 'a sense of humour is one of the characteristics of holiness' and Fr. Phil certainly has that sense of humour. His helpful and understanding manner highlights his special character and is inspiring for everyone. He has unmeasurable faith and dedication to his churches (4 churches in his parish grouping) and to his parishioners. We are so grateful to have him not only as our parish priest, but as our friend. "So here we all gather and are all proud to know, you are our Father, just so you know."
Fr. Phil may have, maybe just a little, hinted at gifts for his birthday and that's all fine, but maybe this year we could also think of doing something 'in his name'. For example, spend time with family playing a game together, bring a meal to someone living alone, pay it forward at Tim's. Of course, Phil's favourite pie is blueberry and I'm sure homemade bread/rolls could find their way to his table, too! Also, let us keep him in our prayers that he is able to sustain his efforts to show he is God's representative here for us.
In the sport of golf there is a Mulligan. A mulligan is a do-over – usually for tee shots that go awry. Well, Fr. Phil is a 'Mulligan', but he doesn't need a do-over. If God was golfing, he wouldn't need a mulligan in directing our Father Phil… everything is just right!
HAPPY BIRTHDAY FATHER PHIL!!!!!!
Cathy Keirstead