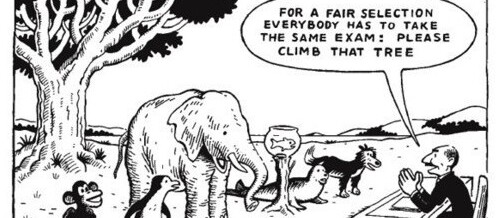 I was in high school (a Roman Catholic all girls high school) and dating the captain of the boys' Roman Catholic high school hockey team. There was an eagerly anticipated big game scheduled for the weekend. However, I was in the school choir, who were in the midst of the Kiwanis Music Festival, kind of a big deal in music circles in St. John's, NL in the 1970's. Our director, who knew a thing or two about teenage girls, and what was going on in the schools, warned us all to stay away from the game. The screaming from rooting for our team was not going to help our vocal chords for the singing required during the Festival, she told us, "You are going to have to sit this one out ladies." "It's not fair!" I said to my parents. "It's not fair! Everyone is going. I am leaving the choir!" My dad rarely engaged in these conversations – far to trivial to concern him and anyway, child management was Mom's job. But, in this situation: "Very little in life is fair, Ellen. Probably best if you learned that now," he said as I stated my case to Mom.
In the Gospel reading of this Sunday, I totally get where the first workers hired are coming from. While a case may be made for workers hired at 9:00, ones hired at 5:00 to get the same wages as those who worked all day? That doesn't seem fair at all. Yet, "My thoughts are not your thoughts … my ways are not your ways."
My dad was right almost 50 years ago – much in life seems unfair. Is it fair that some people doing good, valuable, important, necessary work get paid exorbitant wages for that work, and others also doing good, valuable, important, necessary work receive barely a liveable income? We learned during the Covid-19 lockdown that essential work comes from a variety of occupations. Is it fair that some folks struggle to grasp even the most basic mathematical concepts, and others will someday be able to tell us how the universe started? Is it fair that Jeanne Calment from France celebrated her 122nd birthday, and Becca Schofield only her 18th?
I have no answers for any of this. Still, I am grateful that my thoughts and actions are not God's, because sometimes those thoughts and actions are not life-giving: not to others … not even to me. Fair is not always equal. The owner of the vineyard is right when he tells the workers he is doing them no wrong – he paid them what he told them he would pay them. Somehow though, we expect in such situations, that we should be rewarded more – we don't want just what we need; we don't want just what we are entitled to … we want what she has. And the more we get, the more we want. We think if we can simply have that one more thing, we will be happy; but humans are always yearning for more. I read once that luxury, once tasted, becomes necessity. The reality of that becomes clearer to me every day.
God forgives the unforgiveable, loves the unlovable, extends mercy to cruelty.   Mostly we find that difficult to understand because we are unable to do it.  God, thank God, doesn't reward us only what we are merited.  God's ways are higher; God's thoughts are higher.  God sees what we are unable to see and responds as only God can respond. 
Ellen Bennett, Office of Faith Development