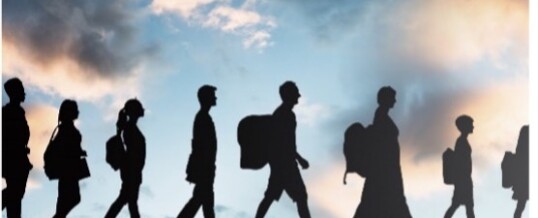 On January 19th, a family of four were found frozen to death on the Canada-US border in Manitoba. It was a shocking and startling headline I spotted when perusing the CBC app on my cell phone. I felt sick. How could such a thing possibly happen in this land of opportunity? A land which had called the Patel family to immigrate, just as it had called my ancestors and the ancestors of any of us not of Indigenous descent in this country. Since then, I have been unable to get them out of my mind.
"A wandering Aramean was my father," Moses tells the people they should respond in the first reading on this First Sunday of Lent. Moses and Abraham, the Aramean he is referring to, certainly understood the reasons why one leaves the country of their birth; they also experienced the challenges leaving can create. Wandering … looking for "a land flowing with milk and honey." When I think of my ancestors crossing the Atlantic from Ireland in the 1800's, I expect they also faced many trials in their journey to Newfoundland – hardships I cannot comprehend the abilty to survive. How difficult it must be to leave your home, the people you love, the culture you understand, the friends you have grown up with. How desperate must you feel to abandon what you know for the unknown, leave everyone behind in your search for something better … seeking out opportunities for you and those you love. To wander … as the Patel family clearly wandered, no doubt disorientated, ill prepared for winter in Canada. It is heartbreaking.
The Preparatory Document for the 2021-23 Synod, For a Synodal Church states: "The tragic condition faced by migrants in all regions of the world shows how high and strong the barriers dividing the single human family still are." From the comfort of our 21st century North American homes, we sit in complacency with often little appreciation of how very blessed we are – this place where ready access is generally available to the food, medicine, education we ,and our children, need. Not all have these comforts, but lots do; and it is not often a Canadian feels a need to take such risks to improve their lives. The only wandering many of us do, is around Costco. So it is hard for us to relate to the motivation of the Patel's, who by all accounts had jobs, homes, and family support in their home state of Gujarat. Still look around you – look at the increasing numbers of new Canadians, all who have left their land of birth for something better. Look at the other journeys that have been taken this winter.
"Be with me Lord, when I am in trouble," the Psalmist writes. As people of faith, we believe that God is indeed with us, not only when we are in trouble, but always. Diocesan Coordinator for Justice and Solidarity, Gladys LeBlanc, recently reminded the English Deanery Pastoral Council, that "God sees what is going on; we aren't being left to fend for ourselves." That is the hope, she says, that we are called to give during these particularly challenging and troubling times. That hope is a whisper sometimes, hard to hear, hard to perceive, hard even to accept.
Some wanderings bring chaos and disruption; some wanderings bring death; some wanderings end in that land of milk and honey; but all wanderings begin with hope.   It was hope that brought a family from India to Canada … and somehow, it will be hope that will help us get through these days too. 
Ellen Bennett
Archdiocese of Moncton
Office of Evangelization and Catechesis