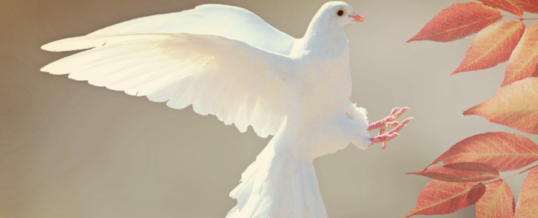 "Wait for the Lord; be strong, and let your heart take courage; wait for the Lord." Ps 27:14
It was difficult to focus on my work this week, as my attention was constantly being drawn to the horrific images of war that were once again inundating every news outlet. I was grateful that my mother had not lived to see this latest assault in Europe. Even in her final years with Alzheimer's, she retained disturbing memories of Hitler's tanks and soldiers invading her town and their use of violence and starvation to control the people of her country, the Netherlands.
Canada is now home to many people from around the world who have had to flee their homelands because of the violent and inhumane aggression of power-hungry leaders; leaders who seem to hold little value for human life or dignity. How do the victims of such horror and fear find the strength to look forward to a future of hope? How do we, who are removed from the physical dangers of war, ground ourselves in faith so that we can help those victims not lose hope?
It took much prayerful reading and re-reading of today's scriptures to find any solace or message of "good news." But a message did emerge; one that said that although life will bring periods of despair and darkness, with patience, prayer, and faith, the light and hope promised to us by God will come.
In the first reading, Abram descends into a "deep and terrifying darkness" before he awakens into a new and life-giving covenant with God.
In the second reading, St. Paul warns that for those whose lives are based on selfish gain, "their end is destruction…their glory is in their shame." Those who live by the teachings of Christ, however, will have their "humiliation" transformed into "glory." We are encouraged to "stand firm."
In the gospel, Jesus takes Peter, John and James up the mountain to pray. The disciples witness a gloriously transfigured Jesus. They are given a glimpse of the new life and glory of their own life in Christ; an experience that will embolden and sustain them through the darks days ahead that await them in Jerusalem.
All the readings reminded me of words spoken by Gandhi, who was often inspired by the teachings and words of Jesus. After encountering violent setbacks to his attempts at change through non-violence, he said,
"When I despair, I remember that all through history the way of truth and love have always won. There have been tyrants and murderers and for a time they seemed invincible, but in the end, they always fall. Think of it, always."
Throughout Lent, we are invited to pray, fast and to give of ourselves.  As war continues to rage in the Ukraine, Syria and other parts of the world, perhaps we can focus our Lenten efforts on victims throughout the world whose lives are threatened and diminished by violence, need and fear.
Mary Joshi