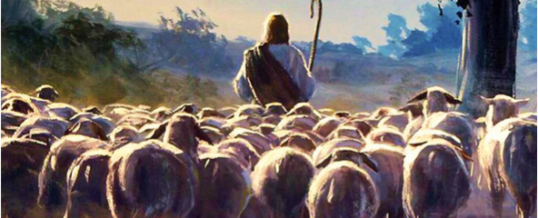 Our faith, based on the gospel reading for this Sunday, tells us that God does not love the world in some big, bland, generic way. God's love is particular and concrete. Love that is not concrete is not love at all. Love is about this particular young man (not all men) whose addiction is costing our family dearly. Love considers this particular woman (not all women) who just became a widow. Love takes into account this particular guy, (not all guys) who right now is going through a mid-life crisis. Love is for this particular teenager (not all teenagers) who does not want to go to school today because she knows she will be bullied. God, can and does, love the whole world, while loving each of us in our uniqueness and particularity.
The good shepherd, the earthly image of our benevolent God, exercises a love for his sheep that is particular and concrete. It says, "he calls his own sheep by name" (John 10:3). There is something wonderful about being called by our name rather than just, "Hey, you." I think it has something to do with the fact that someone made an effort to see us less as a number and more as the unique person that we are. The first person to encounter the Lord Jesus after his resurrection was Mary Magdalene. However, she only realized he was not the gardener after he said her name, "Mary!" (John 20:16). Jesus was buried in a garden tomb. In the scriptures, gardens are not for growing cucumbers and radishes; gardens are for lovers (the archetype of the Lover). Love itself, Jesus, was calling the beloved, Mary. That is, by the way, how each of us will be summoned to eternal life at the end of our earthly lives—by our name.
I think the Good Shepherd does more than just call us by name. Jesus also helps us, like a good teacher, to reach our potential. You who are or were school teachers know this. If a student had the potential to achieve a 75% average, and you, as the teacher, helped her/him to do that, you were acting as the Good Shepherd. You cared for each child and wanted each child to reach their potential. It was not about your reputation as a teacher; it was about this particular child reaching his/her potential.
I heard Lou Holtz (the most successful coach in U.S. college football) say to us at a stewardship conference, "People don't care how much you know, until they know how much you care." How true! Here is a little story from Fr. William Bausch about caring enough to help someone reach their potential: There was an old Navaho Indian sheep farmer whose neighbour's dogs were always killing his sheep. As he saw it, he had three options. One, in true American tradition, he could sue; he could bring a lawyer and take his neighbour to court. His second option was to build a stronger and higher fence so his neighbour's dogs could not get in. But he took a third option. He gave two lambs to his neighbour's children. In due time the lambs grew into sheep and had other sheep, and then the neighbour and his children got to see the sheep not as an impersonal herd, but as something warm and fuzzy, something personal with individual traits and a history and names. They soon penned in their dogs. The Navaho farmer believed in his neighbour's potential for self-control, compassion, decency, and fairness. It was always there, but it took another to bring it out. Good shepherds always move us forward with the words, "You can do it!"
Fr. Phil Mulligan