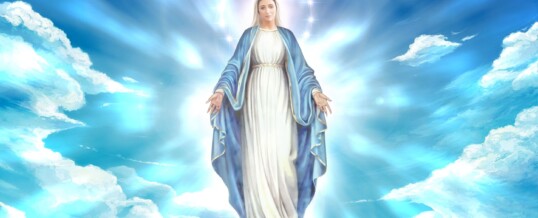 Today we celebrate the Feast of the Assumption of Mary. In 1950 Pope Pius XII defined Mary's Assumption into heaven as dogma of Roman Catholicism: "The Immaculate Mother of God, the ever-Virgin Mary, having completed the course of her earthly life, was assumed body and soul into heaven."
As a child growing up in the 50's and 60's, Mary was always an integral part of my religious upbringing. In May we took our bicycles to school for the Queen of the May parade, when our bicycles would be blessed by our parish priest. When I was confirmed, I chose the name "Mary" as the name added to my baptized name. I remember looking at the statue of Mary and thinking there was space for me under her cloak; her heart was full of tenderness towards all her children. It is my understanding that Mary walks with us always; she is with us during our struggles and triumphs. We can lift up our hearts to Mary because she, like a Mother, is always there with open arms. We can celebrate a time of repose when we can contemplate her beauty; a time of consolation when we look to the reward that Mary enjoys and that we hope for ourselves.
The beautiful words of the Magnificat " My soul magnifies the Lord and my spirit rejoices in God , my Saviour, for He has looked with favour on the lowliness of His servant…..the Mighty One has done great things for me and holy is His name." She was filled with joy that God had chosen her. Her words are evidence of the purity of her soul. Mary's heart desired nothing but to please the Lord. Richard Rohr said, " The language of Mary is the language of allowing, receiving, surrendering, trusting." The feast of the Assumption points to the final reward for a life of holiness by which, with Mary's special prayers and unfailing help to merit God's grace, we may arrive safely in the Father's home.
Mother Teresa said: " Pray especially to Our Blessed Mother Mary placing all your intentions into her hands. For she loves you as she loves her Son. She will guide you in all your relationships so that peace may fill your life. If you ever feel distressed during your day, call upon our Lady. Just say this simple prayer: 'Mary, Mother of Jesus, please be a mother to me now.'"
After retiring from teaching, my husband and I have had the opportunity to travel overseas. We have visited many European sites, including a number of churches. In each church there is a statue of Mary, whose image always seems to show a beautiful woman in a flowing cape; a recognizable figure representing grace, humility, and abounding love. I have a prayer card from one of these churches which I recite each night. It reads:
May we be assisted, we beseech Thee , O Lord,
by the worshipful intercession of Thy glorious Mother, the ever Virgin Mary; that we who have been enriched by her perpetual blessings,
may be delivered from all dangers,
and through her loving kindness made to be of one heart and mind;
who livest and reignest world without end. Amen
Let us remember, honour, and be grateful to Mary on the Feast of Her Assumption.
Cathy Keirstead